Thistle Call Back Service
26 May 2022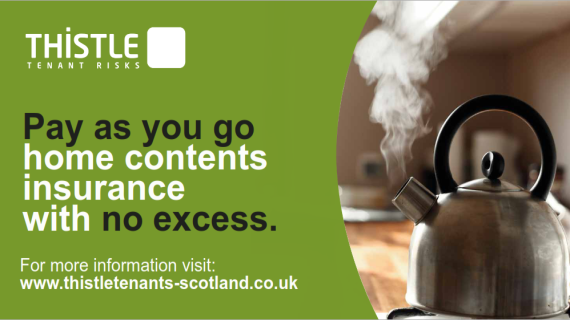 Sharing Information from Thistle Tenant Risks on their Call Back Service:
THISTLE TENANT RISKS CALL BACK SERVICE
Thistle Tenant Risks appreciate the increasing pressure on front line housing staff and are aware that talking about the need for tenants to have their own home contents insurance may on occasions not be given the time you would like. This is one of the many reasons we provide our call back service.
The call back service is easy to use, you can send us is a simple spreadsheet or tenants can complete a declaration form, which can be returned to us. Alternatively, you can direct your tenants to our microsite website where they can complete the contact form: www.thistletenants-scotland.co.uk and request a call back.
We have a dedicated team who will call your tenants at a convenient time for them. We would be happy to share statistics with you on how this service has improved your take up.
WHAT OUR COLLEAGUES SAY
'The Thistle Tenant Risks Customer Service Team understand that home contents insurance is not always at the forefront of our customers mind. Our team are friendly and always happy to help.
We will guide and assist our customers, and we appreciate some customers may require a little extra help and reassurance.
Good customer experience is high on our list, and we make it our priority to be efficient, friendly and helpful.'
Julian King
Team Leader - Thistle Insurance Services Ltd
'We have developed a system which has proven to be highly effective when looking to generate better engagement and uptake of insurance for tenants. Staff interacting with tenants can get their permission to pass contact details to Thistle Insurance and have their explicit consent for Thistle to contact them to discuss the insurance scheme. This is done in 3 easy steps.
Housing Staff can ask tenants if they would be happy to receive a call from Thistle to discuss contents insurance
Tenant's details are collected and passed through to TISL via email or online contact form
Thistle Insurance contact centre call the tenant at the requested time to discuss a quote over the phone
The service is effective as it takes the onus away from a tenant having to make time to contact Thistle. We are contacting them on a day and time that is more convenient for them.
The Call-Back Service has proven to be the most effective method of increasing take-up of contents insurance among tenants and increasing staff engagement with the scheme. Plus Dane Housing are a great example of how implementing the service has had a positive effect on take up. They implemented the call back service in August 2020 and have seen a 10% increase in policy take up in the last 12 months, which is a doubling in growth compared to 2019-2020.
Matthew Whatmoor-Cooke
Account Executive - Tenant Risks, Thistle Insurance Services Limited
If you would like further information regarding this service and how it can help increase the take up of tenants taking out insurance, or would like to discuss the scheme further please contact sally.alvey@thistleinsurance.co.uk who will be happy to help.
Thistle Tenant Risks is a trading style of Thistle Insurance Services Limited. Thistle Insurance Services Limited is authorised and regulated by the Financial Conduct Authority FRN 310419. Registered in England under No. 00338645. Registered office: Rossington's Business Park, West Carr Road, Retford, Nottinghamshire, DN22 7SW. Thistle Insurance Services Ltd is part of the PIB Group.
Our Data Protection Privacy Policy is online at https://www.thistleinsurance.co.uk/Privacy-Policy