Our Charity - CHAS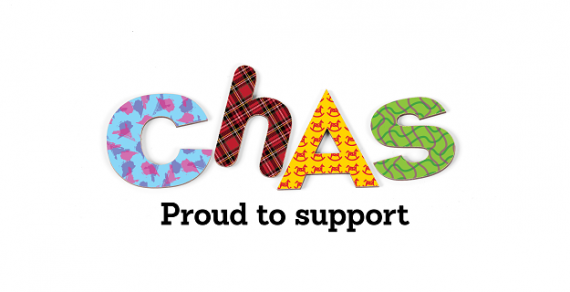 EVH began fundraising for CHAS (Children's Hospice Association Scotland) in 2003. We smashed our £100,000 target last year whilst celebrating our 40th anniversary year! A special unveiling of our "CHAS Wall" in Betty's Room took place on Thursday 3 May 2018 and we were joined by staff from CHAS and guests from member organisations, supporters and suppliers.
CHAS (Children's Hospices Across Scotland), the only charity providing hospice services in Scotland for children with life-shortening conditions because no amount of medicine, or love, can cure them. Their aim is to reach out to every family living with the heartbreaking knowledge that their child is dying, support them, care for them and help them to make the most of that precious time. This sits at the heart of everything CHAS do. Caring for a child with a life-shortening condition can place unimaginable demands on families - physically and emotionally. Quite simply, CHAS are there to lighten their load.
EVH and its members have been fundraising for CHAS over the last 14 years and its Chair, David Rose said, "we are delighted to be marking this huge achievement for such a worthwhile cause." After the ceremony Jonathan Clegg, Community Fundraiser at CHAS (Children's Hospices Across Scotland) said,"the support we have received from EVH over the past 14 years is incredible and we were delighted to be a part of the celebrations to commemorate reaching £100,000. A huge thank you goes to EVH and all the member organisations for all their hard work and dedication. Three children die every week in Scotland of a life-shortening condition, and at present, we're only reaching one of those families. The donations, funds and awareness raised by our amazing supporters help us on our mission to reach and support every single baby, child and young person who needs us."
To date our overall fundraising total now stands at £104,791.47, a huge thank you to all our supporters. We took the opportunity to mark this achievement by inviting Jonathan Clegg from CHAS and our officer bearers from the Executive Committee into the office for a photoshoot to share the success. The photo can be seen in the "Downloads Section".
Furthermore we managed to raise over £12,750 in the year alone and are using this money to support the CHAS "Pay for a Day" initiative. It will provide CHAS care across Scotland for a day and will fund eight families at each hospice, as well as the CHAS at home teams in the communities and other families receiving support from the CHAS family support team. The date for this sponsorship day took place on Tuesday 23 July 2019 and to celebrate this special day we arranged an afternoon visit to Robin House. A photo of EVH staff and Executive is available in the download section.
To find out more about the wonderful work that CHAS do you can have a look at the video below or visit their website www.chas.org.uk.
Take a look at our new CHAS wall under our "Downloads" section.