Mindfulness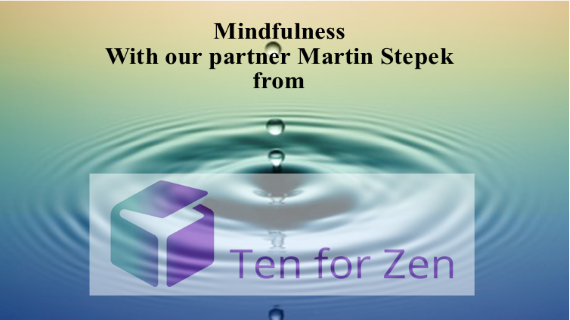 With the remarkable year that was 2020 now behind us, we are sure you will agree that 2021 is without doubt the perfect time to focus on organisational and individual wellbeing.
With this in mind, and without any additional fee, we are committed to providing members with a full year of access to mindfulness materials and sessions. We have partnered with mindfulness expert Martin Stepek from Ten for Zen to provide this; Martin has been practicing mindfulness for over 20 years, is a published author in the field, and is one of Scotland's leading experts in mindfulness. Here's the small print on how it will all work:-
Start of each month – a new mindfulness topic will be issued by the EVH events team at the start of every month, with a link to our website to view a brief booklet and recording to allow you to digest the topic in your own time throughout the month.
End of each month – Martin Stepek will close off the topic with a one hour session on Zoom, this will include a mindfulness practice and discussion on the topic.
Pick and mix – although it may be beneficial, there is no need to attend all twelve monthly sessions to gain benefits, members can decide to book one or many as the year progresses.
Session Booking – we will take bookings each month once the new topic email is issued. We will initially set a limit of 6 places per member organisation, but will also hold a waiting list and advise if space allows for more than this.
And now time to tell you about our first topic - where better to start this adventure than An Introduction to Mindfulness:- Our mindfulness series begins with an introduction to the simple, scientifically proven techniques - ideal if it's new to you or as a refresher if you already have some experience. Our booklet (found in the download section) has all the information you need to understand this life changing philosophy and the handy audio leads you in an expertly guided practice to help you relax and unwind whenever you need. Both of these downloads are available on the download section, just use your member password to sign in and access them.
All of the booklets and audio files for each month will be available in the download section to all members throughout this year.
January
We invite you to book your place at the corresponding free session on Tuesday 26 January 2021 from 11.00am until 12.00pm via Zoom - join Martin and hear first-hand how mindfulness can help your well-being and get tips and advice on how to get started or to refresh your existing practice.
To register for a place at this event please click on the Mindfulness Session on Related Content section to take you there. In order to guarantee a space, bookings should be made by Wednesday 20 January 2021 as all additional places on the waiting list will be confirmed after this date.
Don't miss this opportunity to get involved and on the right track for 2021.