Mindfulness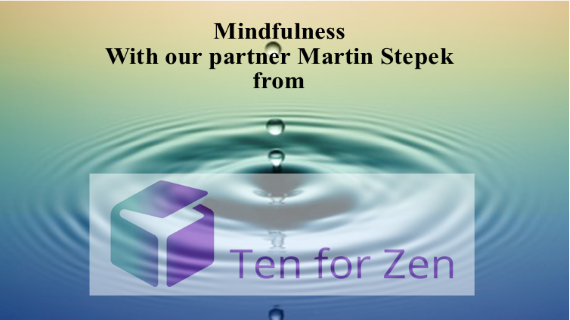 With the remarkable year that was 2020 now behind us, we are sure you will agree that 2021 is without doubt the perfect time to focus on organisational and individual wellbeing.
With this in mind, and without any additional fee, we are committed to providing EVH members with a full year of access to mindfulness materials and sessions. We have partnered with mindfulness expert Martin Stepek from Ten for Zen to provide this; Martin has been practicing mindfulness for over 20 years, is a published author in the field, and is one of Scotland's leading experts in mindfulness. Here's the small print on how it will all work:-
Start of each month – a new mindfulness topic will be issued by the EVH events team at the start of every month, with a link to our website to view a brief booklet and recording to allow you to digest the topic in your own time throughout the month.
End of each month – Martin Stepek will close off the topic with a one hour session on Zoom, this will include a mindfulness practice and discussion on the topic.
Pick and mix – although it may be beneficial, there is no need to attend all twelve monthly sessions to gain benefits, members can decide to book one or many as the year progresses.
Session Booking – we will take bookings each month once the new topic email is issued. There is no limit to the number of bookings but they will be taken on a first-come-first-served basis.
September
Martin will look at Dealing with Difficult People and explain how Mindfulness can help. If we're honest with ourselves we know that sometimes we're unreasonable or not good people to be around. When we're difficult it's hugely helpful to have understanding people around us. If we can be difficult at times, it's only fair to accept that other people will also be difficult at times too.
Join Martin and he will show you how to recognise difficult traits in yourself and others and explain how to use mindfulness to see this as part of life rather than react negatively to it. He'll also guide you in knowing how to see when it's time to walk away and how to be happy despite difficult people.
We invite you to book your place at the corresponding free session on Tuesday 28 September 2021 from 11am until 12 midday via Zoom. To register for a place at this event please click on the Mindfulness Event on Related Content section to take you there. Don't miss this opportunity to get involved and on the right track for 2021.
All of the booklets and audio files for each month will be available in the download section throughout this year, just use your member password to sign in and access them.
August
Martin looked the causes mood swings and how it's normal for your mood to change throughout the day. You might feel grumpy when you wake up, happy as you take a stroll in the sun with a friend and exasperated as you get caught in a traffic jam on the way home from work. Occasionally mood swings can be more severe including depression and anger. Martin gave advice to help you relax and unwind any time you need it
July
Our seventh topic for Mindfulness was looking at sleep. Martin explained how Mindfulness can help you get a good night's sleep, so you feel rested and refreshed each morning, and ready to tackle your day. The importance of sleep is discovered when you don't get enough of it - you can't focus, you lose control over your sense of reality, you even feel the urge to eat too many sugar-packed foods. The right amount of sleep is vital for our body and mind to function. He gave us some useful hints and tips for using mindfulness to get a peaceful rest.
June
The topic this month was happiness. We all think we know what it is, we certainly know when we don't have it! And it would probably be fair to say most of us would like a bit more. Martin looked at how to prevent the distractions creeping in and focus on the happy thoughts.
May
Martin looked at Developing Focus and Clear Thinking. Martin unravelled the reasons why focus is a challenge for most of us and looked at ways to use mindfulness to develop greater focus and clearer thinking.

April
Martin looked at Dealing with Stress, Anxiety and Worry. He looked at the difference between stress, anxiety and worry - exploring what causes these negative emotions and how to use mindfulness to deal with them
March
Martin looked at Managing Change and Uncertainty, to help us deal with the current challenges we face and gave us skills to manage whatever life throws at us in the future. Change happens all the time, it is an inevitable part of life, but it can also be unsettling and very challenging. The COVID pandemic has brought an unprecedented level of change to lives leaving many feeling anxious, stressed and upset.
February
Our mindfulness series continued with a look at building resilience. In both life and work, what is for certain is that we'll have good times and bad times. The ability to manage these issues, and start to enjoy life again is so important. Martin showed delegates how to use mindfulness to build resilience.
January
Our first topic - where better to start this adventure than An Introduction to Mindfulness:- Our mindfulness series began with an introduction to the simple, scientifically proven techniques - ideal if it's new to you or as a refresher if you already have some experience.