Long Service Winners
6 June 2017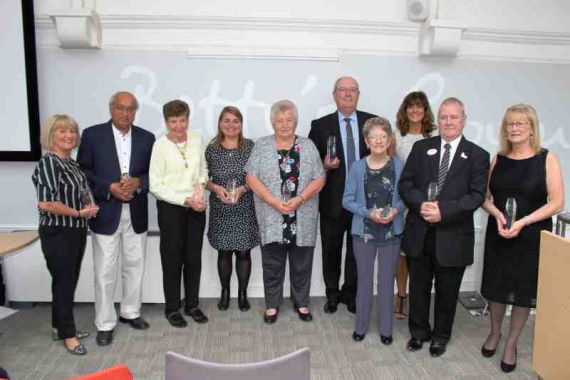 Our Long Service Award scheme goes from strength to strength!

The June crop totalled 22, of whom 18 were governing body members. We present these awards at our big night ceremony twice per year – or can present them locally, all to suit winners' preferences.

Our most recent ceremony was held on a hot and sticky early June night in Betty's Room where eleven of our recent awards winners (and their families) joined a further 40 or so of our regular Management Committee crowd in Betty's Room. Just as well we also had a handful of EVH'ers serving cold drinks from the beach bar! Of the winners, Ardenglen gave us Maureen Cope and Isabel Brier.

Two also from Charing Cross in the form of Linda Irvine and Najam Khan. And two more from Clydebank: John Hillhouse and Neil Findlay. We also had Maureen Flynn, Copperworks, and, Alice McGuire all the way from Fairfield in Perth. Another brace, this time from Glen Oaks, with Helen Gracie and our own Pat McGinlay having stayed the course. Each of Govanhill and Yorkhill gave us a winner each in the shape of Avril White and Doctor Malcom Green respectively.

Into the big numbers again, we had Jean Lunn, Alan Brown, Tilly McIlroy and Charlie Lunn – of Spire View. Another foursome from West Granton; Lorna Brown, Marilyn Dickson, Joe Moir and, George Thomson. Finally, a pair from Forth; Anne Matthew and John Cameron.


That's over 600 years of experience and service!
The headline picture above, shows eleven of the winners receiving their awards from EVH's Chair, Gordon Mason, in Betty's Room on 5th June.
Here, John Cameron receives his award on site at Forth's office. Remember that we are very happy to come on site and present awards at your local meetings for those who prefer to have them this way.
Overall we have now presented close on 100 awards - and among the best part of 40 organisations.

We will notify all members when next we are calling for nominees.