Helen McGregor Award
1 November 2017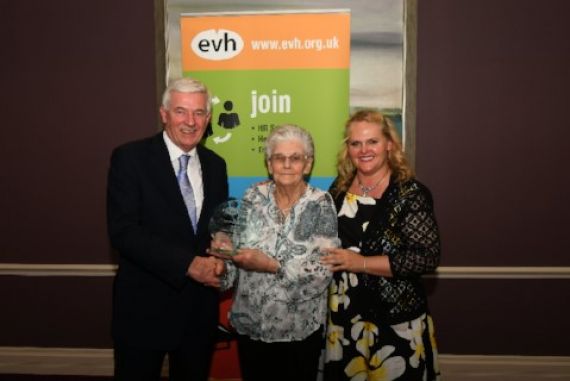 Elspeth Millen, Chairperson of Elderpark Housing Association was announced as winner of the 2017 Helen McGregor Award at the EVH Annual Conference on Saturday 28th October which was sponsored this year by Shettleston Housing Association.

Announcing the winner again this year, Cat Harvey presented Elspeth with a cheque for £500, kindly sponsored by Osprey Housing, Moray in front of delegates and colleagues at this year's EVH Annual Conference held at the Fairmont, St Andrews. Elspeth, who has over 21 years' experience as a committee member, 15 if those being as Chair was nominated by Gary Dalziel, Chief Executive of Elderpark Housing Association.

Gary felt that Elspeth should be recognised for the work that that she undertook in the recruitment and selection of Elderpark's CEO following the sudden and sad passing of the previous long standing Director in 2016. The replacing of a much regarded and loved Director was probably the biggest project/decision that Elspeth and the Management Committee would undertake and in challenging circumstances. Elspeth showed tremendous strength of character and calmness of mind, and along with the Vice Chair they worked alongside EVH to undertake a full recruitment exercise which was transparent, open and focused on bringing new skills to the organisation.

Elspeth's love and dedication for Elderpark shone through in both her nomination form and at her panel interview with the Judges having no hesitation in her selection as a worthy winner.
The three other finalists this year were: -

Colin Cameron, Vice Chair – Gardeen Housing Association
Jackie McKelvie, Chair – Oak Tree Housing Association
Geraldine Baird MBE, Secretary – Rutherglen & Cambuslang Housing Association